All –
Please note that Valerie Maguire and the editorial team have outdone themselves and completed the proposed responses to the comments early. They are now posted in the comments area of the website (http://www.ieee802.org/3/cg/comments ). As usual, we have various sorts, plus an excel spreadsheet version of the comments.
There are also separated files with the "EZ" bucket, the "Editorial" bucket comments. We expect to approve these comments in bulk by motion at the start of the meeting (one motion for EZ and one for Editorial). Please review these prior to the meeting and advise Valerie and myself by email of any you wish excluded from the motion. Response by Friday January 7 is appreciated.
For your convenience, we have also separated out the "Late" comments which the Task Force will be asked to consider with the remainder of the comments.
We started with 351 comments, and we have already had one withdrawn. (if, after looking at the proposed resolutions, you wish to withdraw one of your comments, please email us – it makes the meeting go faster). Below are the counts of comments by topic. You can see that excluding the withdrawn comment, the EZ and Editorial commetns, we have 185 comments to resolve in Long Beach.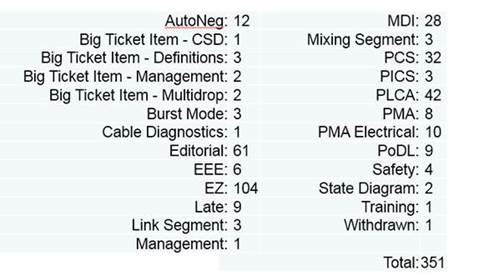 FINALLY – Please send me your requests for presentation time ASAP. If you think you have requested one, but haven't gotten an email from me saying "Thank you – I have put your request on the agenda." , please send again, with the title of your presentation and the related comment number. Requests are due MONDAY (Jan 7), Presentations are due THURSDAY (Jan 10).
George Zimmerman, Ph.D.
Chair, IEEE P802.3cg 10 Mb/s Single Pair Ethernet Task Force
President & Principal
CME Consulting, Inc.
Experts in Advanced PHYsical Communications
310-920-3860
To unsubscribe from the STDS-802-3-10SPE list, click the following link: https://listserv.ieee.org/cgi-bin/wa?SUBED1=STDS-802-3-10SPE&A=1