[802SEC] Final : IEEE P802.11w press release
---
---
Dear EC,
I'm declaring this ballot complete. There were only two missing votes.
I have passed two sets of editorial comments on to Karen McCabe for incorporation in the final version of the press release.

Regards,
Bruce Kraemer


[cid:image001.jpg@01CA3A7D.8212E5C0]
________________________________
From: Bruce Kraemer
Sent: Monday, September 14, 2009 10:02 AM
To: STDS-802-SEC@LISTSERV.IEEE.ORG
Cc: 'k.mccabe@ieee.org'
Subject: +++ 10 Day EC Email Ballot +++ IEEE P802.11w press release

Dear EC members,

The IEEE-SA has prepared a press release for IEEE P802.11w , Protected Management Frames Amendment, which was approved for publication by the IEEE-SA Standards Board on Friday September 11th.

This press release would be issued immediately following approval from the EC via this ballot.

Paul has delegated the conduct of the IEEE 802 EC 10-day ballot on the following motion to me.

Motion:  "The EC supports the IEEE P802.11w Protected Management Frames Amendment press release, with editorial changes as deemed necessary."

Moved:    Bruce Kraemer
Seconded: Mark Klerer

Start of ballot:   Monday 14th September   2009
Close of ballot: Thursday 24th September 2009, 11:59PM EDT

Early close: As required in subclause 3.1.2.2 'Electronic Balloting' of the IEEE project 802 LAN/MAN Standards Committee (LMSC) Operations Manual, this is notice that, to ensure these releases are provided in a timely manner, this ballot may close early once sufficient responses are received to clearly decide a matter.

Regards,
Bruce



----------
This email is sent from the 802 Executive Committee email reflector.  This list is maintained by Listserv.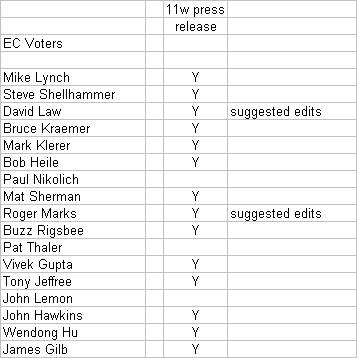 ---