[802SEC] 802.11 Anniversary Press release- EC vote results
---
---


All,

The EC voting results on the 802.11 anniversary press release are as follow:





[cid:image002.jpg@01CB5269.725555F0]





The initial round of suggested edits were included in draft r2.

After Press Release r2 was circulated we received further editing suggestions from Geoff, Roger, and John Barr. These edits were included by Renee in the version Karen McCabe will release on Monday (attached).



Thanks for the suggestions.



Regards,

Bruce





----------
This email is sent from the 802 Executive Committee email reflector.  This list is maintained by Listserv.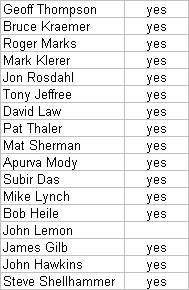 Attachment: PR_802 11_20th-anniversary-draft-clean.doc
Description: PR_802 11_20th-anniversary-draft-clean.doc
---