[802SEC] EC telecon Feb 7 2012- 802.11 motion Request to proceed 802.11ae to RevCom
---
---
Dear EC,
One of the 802.11 motions for the upcoming Teleconference is the unconditional approval to forward 802.11ae (QoS for Management Frames) to RevCom.

This project completed Sponsor ballot on January 4, 2012 with zero comments and 100% approval.

https://mentor.ieee.org/802.11/dcn/12/11-12-0030-01-00ae-excom-request-to-proceed-to-revcom.ppt





[cid:image001.png@01CCDAA6.4931D290]




Regards,
Bruce Kraemer
Chair 802.11


----------
This email is sent from the 802 Executive Committee email reflector.  This list is maintained by Listserv.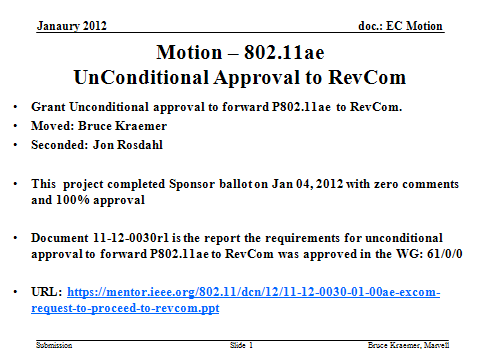 Attachment: EC telecon Feb 7 2012-802.11ae RevCom motion.ppt
Description: EC telecon Feb 7 2012-802.11ae RevCom motion.ppt
---