Re: [802SEC] EC telecon Feb 7 2012- 802.11 motion Request to proceed 802.11aa to RevCom
---
---
Dear EC,
One of the 802.11 motions for the upcoming Teleconference is the unconditional approval to forward 802.11aa (Robust Audio Video Streams) to RevCom.

802.11aa  completed Sponsor ballot on D8.0 January 1, 2012 with 100% approval.

However, there were some approve votes with useful comments. As a result it was decided to create and ballot D9.0 for which the sponsor ballot will close on Friday Jan 27. Any ballot result other than 100% approval will result in this item being removed from the telecon agenda.

[cid:image002.png@01CCDAB1.066A2D30]


The full report can be found at
https://mentor.ieee.org/802.11/dcn/12/11-12-0179-01-00aa-status-report-to-revcom-for-11aa.pptx



Regards,
Bruce Kraemer
Chair 802.11


----------
This email is sent from the 802 Executive Committee email reflector.  This list is maintained by Listserv.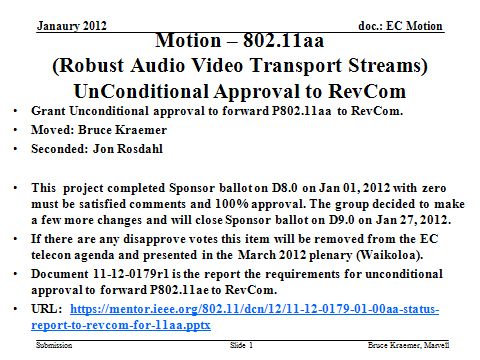 Attachment: EC telecon Feb 7 2012-802.11aa RevCom motion.ppt
Description: EC telecon Feb 7 2012-802.11aa RevCom motion.ppt
---