Dear EC voters,
Paul Nikolich has given his approval for me to run the following motion. Explanatory material follows the motion text.
Motion
Approve the formation of an 802.11 Study Group on the topic of "Wake-up Radio" with the intent of creating a PAR and five criteria.
Moved: Adrian Stephens
Seconded: Jon Rosdahl
Start of ballot: 2016-05-20
Close of ballot: 2016-05-30, 23:59 UTC-12
The motion in the WG on Wednesday of the Waikoloa Interim was:
"Request approval by IEEE 802 LMSC to form an 802.11 Study Group to investigate the requirements and feasibility of the wake-up receiver (WUR) technique as described in doc 11-15/1307r1 with the intent of creating a PAR and CSD.
Moved: Minyoung Park
Seconded: Rolf DeVegt
Result: 84-14-24 Motion passes"
This subject has been considered in 802.11 wireless next generation (WNG) group a number of times. It formed part of the scope of the discussion in the 802.11 "long range low power" topic interest group (TIG), which was formed in Sept 2015. Having approved the request for a Study Group on Wake-up Radio, the TIG members decided it had completed its work, and the I have disbanded the TIG.
Document https://mentor.ieee.org/802.11/dcn/16/11-16-0722-01-0000-proposal-for-wake-up-receiver-study-group.pptx summarises the expected scope of the project, and was used in support of the request to form the study group in 802.11. Slide 10 of this document nicely describes the technical expectations of the project.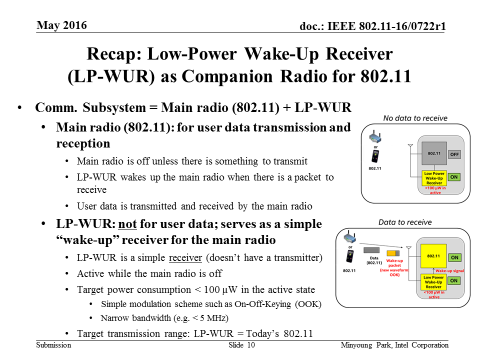 Best Regards,

Adrian P STEPHENS

Tel: +44 (1793) 404825 (office)

Tel: +1 (971) 330 6025 (mobile)


----------------------------------------------
Intel Corporation (UK) Limited
Registered No. 1134945 (England)
Registered Office: Pipers Way, Swindon SN3 1RJ
VAT No: 860 2173 47

---------- This email is sent from the 802 Executive Committee email reflector. This list is maintained by Listserv.