Dear EC members,

The feedback to my proposal to solicit approval of the 802.11 revision par on the EC telecon was negative.
I shall therefore follow the usual 802 EC approval route,  and pre-submit to NesCom for its March meeting.

This is notification that I will seek approval of the PAR in https://mentor.ieee.org/802.11/dcn/17/11-17-0004-01-0000-revision-par-proposal-tgmd.doc
during the March 2017 802 plenary.  

The PAR was approved by motion in WG11: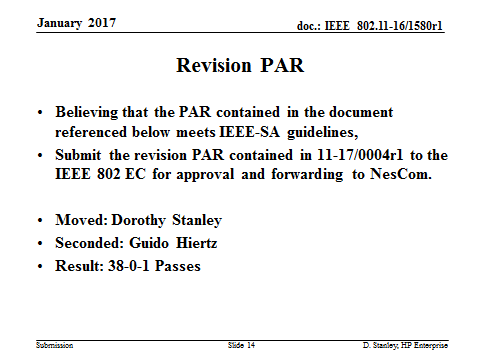 It is necessary because we have two published amendments to IEEE Std 802.11-2016 already,
and a further 7 active amendment projects.



-- 
Best Regards,

Adrian Stephens
IEEE 802.11 Working Group Chair
mailto: adrian.p.stephens@ieee.org
Phone: +1 (971) 203-2032
Skype: adrian_stephens

---------- This email is sent from the 802 Executive Committee email reflector. This list is maintained by Listserv.