Hi Tony,
We had a similar issue in the opening meeting for TGaz during the IEEE call.
I will note that we had Jon on the call he also tried to run the poll as meeting organizer – it didn't help.
Another observation is that TGaz folks submitting their vote but as chair I could see it was only under status "in progress" as if they did not click the "submit" button which they did.
As the problem did not repeat itself in later telecons we did not debug any further.
Best,
Jonathan
--- This message came from the IEEE 802.11 Chairs' Advisory Committee Reflector ---
Hi all,
        We had a polling problem during our call today: After I opened the poll, the member actually voted, but I could not see any results.
Assaf told me that 11az have the similar problem before.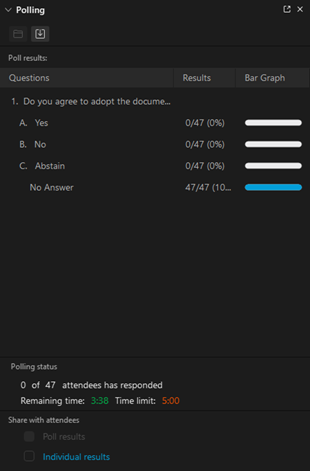 Best Regards : )
Tony Xiao Han
---
To unsubscribe from the STDS-802-11-CAC list, click the following link: https://listserv.ieee.org/cgi-bin/wa?SUBED1=STDS-802-11-CAC&A=1