IEEE 802.16 Session #105 Report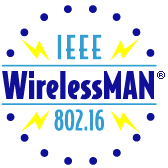 IEEE 802.16's Session #105 took place on 13-15 September 2016 in Warsaw, Poland, in conjunction with the IEEE 802 Wireless Interim Session and co-located with sessions of other IEEE 802 Working Groups. The attendance list is posted.
GRIDMAN Task Group and Narrowband Activity
The P802.16s project project addresses fixed and mobile wireless access in channel bandwidth up to 1.25 MHz. The GRIDMAN Task Group (TG) met to progress the project. The TG report summarizes the activity and progress. The TG reviewed five contributions and discussed parameter changes for new profiles to be specified in the project. The TG updated the System Requirements Document (SRD) and continued development of the System Description Document (SDD). The TG discussed the project development process and developed a Call for Contributions toward Session #106. The TG scheduled a teleconference for 20 October at 16:00 UTC (noon ET).

Working Group Minutes
See the draft Working Group Session #105 Minutes.

Documents
Draft standards are available with a working group password or by purchase from IEEE-SA. Most IEEE 802.16 standards are available for free download via the Get IEEE 802® program. See the 802.16 publication list for details of published standards and drafts.

About IEEE 802.16
The IEEE 802.16 Working Group on Broadband Wireless Access Standards has developed and is responsible for maintaining the WirelessMAN® standards of IEEE 802.16 and 802.16.1 for wireless metropolitan area networks. The IEEE 802.16 Working Group is a unit of the IEEE 802 LAN/MAN Standards Committee, the premier transnational forum for wired and wireless network standardization. A list of IEEE 802.16 standards and drafts is available on-line, as is an archive of previous Session Reports. The IEEE 802.16 Interactive Calendar includes sessions and deadlines.

"802.16 News" Mailing List
The "802.16 News" mailing list ("stds-802-16-news") has the sole purpose of distributing major announcements related to the Working Group. Those interested in following the progress of the group but not in the day-to-day details may wish to subscribe. Only the Working Group Chair is eligible to post to the list, and mailings will be rare: once after each bimonthly session and additionally for major news, such as the approval of a new standard. Those subscribing to the stds-802-16 mailing list, for active Working Group participants, need not subscribe to stds-802-16-news since the postings will be redundant.
---
---
This report 11 October 2016 release) is by:

Roger Marks (r.b.marks@ieee.org), EthAirNet Associates
Chair, IEEE 802.16 Working Group on Broadband Wireless Access Standards
---
Return to IEEE 802.16 Session #105 Page