Dear IEEE P802.3cx Participants,
Please see the email below from the IEEE 802 EC regarding the suspended registration for the March IEEE 802 plenary. I will forward you another email once this issue is resolved.
Thanks and best regards,
Steve Gorshe
Chair – IEEE P802.3cx ITSA Task Force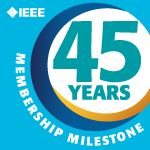 _________________________________________________________________________________________________________________
From: ***** IEEE 802 Executive Committee List ***** <mailto:STDS-802-SEC@xxxxxxxxxxxxxxxxx> On Behalf Of Paul Nikolich
Sent: Thursday, December 16, 2021 7:26 PM
To: mailto:STDS-802-SEC@xxxxxxxxxxxxxxxxx
Subject: [802SEC] Read-out from the 802 EC executive session on the 2022 March Contract Status
Dear 802 LMSC EC Members and Observers,
The 802 Executive Committee met in executive session on Tuesday 14 December and Thursday 16 December 2021 to consider the 2022 March Contract Status. The output from the meeting is as follows:
Read-Out from the Executive Session:
• Contract Negotiations on the March 2022 cancellation will result in a significant penalty fee not anticipated on December 7th, 2021.
• Registration for the March 2022 Plenary will be suspended immediately until a new Fee Structure for the plenary is determined to address the penalty fee.
• The discussion of the new fee structure will occur on the STDS-802-SEC reflector and an email motion will be conducted.
I will issue a more complete notice for publication on the 802 home page first thing tomorrow morning, Friday 17 December.
Regards,
--Paul
To unsubscribe from the STDS-802-3-ITSA list, click the following link: https://listserv.ieee.org/cgi-bin/wa?SUBED1=STDS-802-3-ITSA&A=1