IEEE 802.16 Session #76 Report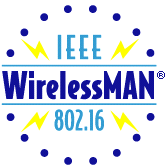 IEEE 802.16's Session #76 was held on 7-10 November 2011 in Atlanta, Georgia, USA. This was an IEEE 802 LMSC Plenary Session and co-located with sessions of the other IEEE 802 Working Groups and Technical Advisory Groups. The attendance was 71.
Updated Project Authorizations
Following review in the IEEE 802 process, the IEEE 802 Executive Committee agreed to the WG's proposals to divide the existing P802.16n and P802.16p amendment projects so that, in each case, new separate amendments (P802.16.1a and P802.16.1b) will be developed with respect to the 802.16.1 standard. The associated Project Authorization Requests are in line for approval by the IEEE-SA Standards Board on 7 December.
Machine-to-Machine Task Group
The Machine-to-Machine (M2M) Task Group resolved comments in WG Letter Ballot #33, in which draft P802.16p/D1 was reviewed. Afterwards, with the ballot at a 97% approval ratio, the 802 Executive Committee granted conditional approval to move on to IEEE Sponsor Ballot, following recirculation. Comments in the recirculation of P802.16p/D2 will be considered at Session #77. The M2M Task Group also resolved comments in WG Letter Ballot #34. Consequently, the WG agreed to adopt a first WG draft in the P802.16.1b project, contingent on approval of the P802.16.1b PAR. Pending approval of that PAR, a WG Letter Ballot will be opened for review of the draft. A closing report was issued, with minutes to follow.
Maintenance Task Group
The Maintenance Task Group resolved comments in WG Letter Ballot #35 and WG Letter Ballot #32, in which drafts P802.16Rev3 and P802.16.1, respectively, were reviewed. Afterwards, with the ballots at a 100% and 99% approval ratio, respectively, the 802 Executive Committee granted conditional approval to move both on to IEEE Sponsor Ballot, following confirmation ballot. The WG anticipates opening 30-day Sponsor Ballots in mid-December and resolving comments at Session #76. The TG, which also prepared a liaison statement to the WiMAX Forum, issued a closing report and minutes.
GRIDMAN Task Group
The Working Group's GRIDMAN Task Group met to discuss activity under the P802.16n project. The project is amending IEEE Std 802.16 to provide for "Higher Reliability Networks." Since the base 802.16 standard is being divided, the TG has divided its working document into two components. During the session, comment resolution was conducted regarding comments submitted on both components. Further comments will be invited prior to Session #77, after which the TG intends to move the drafts to WG Letter Ballot. The TG issued a closing report, with minutes to follow.
Project Planning Committee
The WG's Project Planning Committee met for two periods during Session #76. It addressed several contributions related to an earlier draft on Study Report on Hierarchical Networks. Interested was expressed in a possible new project related to hierachical and/or heterogenous networks. A meeting on the topic is planned for Session #77, with the participation of other 802 Working Groups to be encouraged. The Committee issued a closing report. The ITU-R Liaison Group proceeded with advance drafting of several documents that are due in 2012. The Liaison Group will not meet at Session #76 but does plan to resume meeting at Session #77. For more details, see the ITU-R Liaison Group Report.
Other Business
The Working Group decided to shift to the IEEE-SA mentor documentation systems for WG documents, beginning in 2012. Awards were presented to several members for their leadership in the development of IEEE Std 802.16m; other awards will be distributed to mail to those unable to attend. The WG's motions at the IEEE 802 Executive Committee meeting of 2011-11-11 were all approved unanimously.

Working Group Minutes
The document number of the Working Group Session #76 Minutes is IEEE 802.16-11/0047.

IEEE 802 Executive Committee Actions
The Working Group's issues at the 802 LMSC Executive Committee meeting of 11 November were approved.

Documents
The Session #76 Document Guide includes references to all session documents. Draft standards are available with a working group password or by purchase from IEEE-SA. Most IEEE 802.16 standards are available for free download via the Get IEEE 802® program. See the 802.16 publication list for details of published standards and drafts.

About IEEE 802.16
The IEEE 802.16 Working Group on Broadband Wireless Access Standards has developed and is enhancing the WirelessMAN® Standard for wireless metropolitan area networks. IEEE 802.16 is a unit of the IEEE 802 LAN/MAN Standards Committee, the premier transnational forum for wired and wireless networking standardization. A list of IEEE 802.16 standards and drafts is available on-line, as is an archive of previous Session Reports. The IEEE 802.16 Interactive Calendar includes sessions and deadlines.

"802.16 News" Mailing List
The "802.16 News" mailing list ("stds-802-16-news") has the sole purpose of distributing major announcements related to the Working Group. Those interested in following the progress of the group but not in the day-to-day details may wish to subscribe. Only the Working Group Chair is eligible to post to the list, and mailings will be rare: once after each bimonthly session and additionally for major news, such as the approval of a new standard. Those subscribing to the stds-802-16 mailing list, for active Working Group participants, need not subscribe to stds-802-16-news since the postings will be redundant.
---
---
This report (12 November 2011) is by:

Roger Marks (r.b.marks@ieee.org)
Chair, IEEE 802.16 Working Group on Broadband Wireless Access Standards
---
Return to IEEE 802.16 Session #76 Page