"Oh my God!" I blurted out as I read Mark's email in the Santa Barbara airport.
"What's wrong? What happened?" My wife Grace asked. She knew something terrible had happened.
"A standards guy like me just passed away last night. Yesterday he was leading an IEEE meeting and now he's gone. He was the funniest guy in IEEE and everyone would listen when Hugh went to the microphone. We knew he'd always be saying something funny or provocative."
That was my initial reaction to the sad news of Hugh's passing. I'm on vacation now, but I keep reflecting on Hugh and how he will be missed.
One of the unique things I remember about Hugh is that he was everywhere in his football jerseys. I would walk into a 40GBASE-T meeting and there's Hugh in a bright red shirt that was stretched to breaking point. I'd walk into MIB meeting and there Hugh in his green shirt. I'd go into the bar and there's Hugh in his bright blue shirt. He was prolific in attending all the meetings and the bars. He always knew where he was needed.
The breadth and depth of his knowledge is why I sought him out to give the Ethernet 101 webinar that is archived at:
http://www.ethernetalliance.org/soe/ethernet-101-introduction-to-ethernet/
Here's his picture we used for him in the webinar: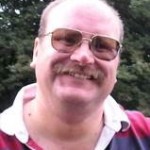 Hugh was one of the few people who can dive into the depths of protocol in 802.1 and then show how the hardware is designed in 802.3. I remember when he was talking to my colleague Anoop Ghanwani about some esoteric DCB protocol issue they were working. After 15 minutes of that, I asked Hugh why he never talked to me in such detail and he quickly replied, "I need to speak to the level of the listener!"
Another one liner that I remember him saying at a plenary was, "Don't insult the intelligence of this committee by saying that Hawaii is part of Asia!"
You'll be missed Hugh!
Scott