IEEE 802.16 Session #35
IEEE 802.16's Session #35 was held 24-27 January 2005 in Sanya, Hainan, China. The session was hosted by Lucy Chen and Katherine Woo of corporate host Huawei Technologies Co. The decision to select this site was made on 15 July 2004 based on the host's site selection proposal and an alternative proposal for Bangalore, India.


Summary and Key Outcomes
See the Session #35 Report.

Documents
Please see the document page.

Attendance
See the attendance list. The attendance of 313 broke a Working Group interim session record.
Registration
Registration was by online form submission using the appropriate registration form:
The registration fee was US$160 for those preregistering by the deadline of 5 January and $200 otherwise. The fee was payable on-site to the hotel using the registration fee payment form.
Participation
Membership and observer status in the working group are acquired and retained based on participation. At this session, participation was recorded in 10 intervals [4 afternoons (Mon-Thu), 3 mornings (Tue-Thu), and 3 evenings (Mon, Tue, Thu)]. Electronic sign-in was used, based on an Attendance Form. Participation credit required the filing of the on-line session registration form (see below).
Agenda
See the draft Schedule for the Week. The session included an Opening Plenary from 1-3:30 pm on Monday and concluded with a Closing Plenary on Thursday evening. A tutorial introduction to IEEE 802 and IEEE 802.16 was held on Monday morning from 10 am - noon.
Meeting Site
International Asia Pacific Convention Center HNA Resort Sanya
Sanya Bay Resort District, Sanya, Hainan, China 572000
Tel: +86-898-88332666
Fax: +86-898-88332266

This is one of the largest luxury five star convention resorts owned and managed by the Hainan Airlines Group. The resort features luxurious and spacious guestrooms and suites and a 5400 square meters convention center with 16 function rooms accommodating from 20 to 1000 persons. Located in the heart of picturesque Sanya Bay Resort District, the resort is also conveniently located only a 15 minute drive to the downtown and the most famous attractions such as the West Island Marine Amusement World, Nanshan Cultural Tourism Zone, the End of the Earth, Sanya international golf club etc.
Hotel Reservation
The meeting period is right before Chinese traditional festival (Spring Festival) when lots of mainland people would like to travel with family to Sanya which serves as the most suitable resort with its beautiful sights and pleasing weather. Therefore, rooms in the hotel are very limited at that period of time; please reserve your room as soon as possible! The cutoff date for hotel reservations through Huawei for discount room rate is

25 December

. Please use the hotel reservation form; you can complete this form electronically and then email it to Katherine Woo. (Please note that the "Deluxe Ocean View" rooms are sold out, as of 12 December.)

Any adjustments or new reservations after this cut off date should be made via the phone with the hotel directly. Such nice discount or preferred rooms may not be available then. Mention the meeting name "IEEE802.16" to get the group rate, if available.

We strongly recommend you to reserve air flights as well as hotel ASAP, to avoid the potential trouble brought by the famous Spring Festival high season!

Notice:
Discounted room rates of US$85 and $95 per night
Including coupons for breakfast and buffet lunch for one person per room; additional may be purchased at check-in
Discounted hotel room rate available from Jan 22 to 29, 2005
Check out time: Noon
Cancel reservation within 24 hours before check-in to avoid single day penalty charge.
Travel to Sanya International Phoenix Airport (SYX)
Sanya International Phoenix Airport (SYX) offers connections to a number of cities in Asia. Here is one list of cities and airlines, not guaranteed to be correct.
Transportation from Airport
The resort is located only a 15 minute drive from Sanya International Phoenix Airport.
Taxi: Taxis are always available. The fare will be approximately 70 RMB Yuan.
Shuttle bus provided by the Hotel: The fare will be 40 RMB Yuan per person.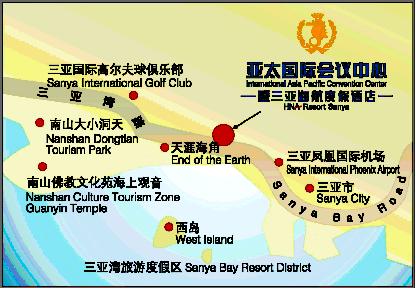 Note: "End of the Earth" is a "Chenglish" translation of "Tian-Ya-Hai-Jiao," a beautiful scenery with the meaning of "the far edge of the sea and sky."
Visa
A visa is required for entrance to the People's Republic of China. You will need to present a letter of invitation, along with additional paperwork, to the Chinese Visa Office in your own locality to obtain your visa. The host company, Huawei Technologies Co., Ltd., will provide invitation letters for visa applications. To request a letter of invitation, download the invitation request form. Make your request as soon as possible to avoid disappointment in receiving your visa in time for your trip. THE DEADLINE FOR THE INVITATION LETTER REQUEST WAS 25 DECEMBER.

If your visa application asks for "Names, Address and Phone No. of Inviting Organization or Person in China," you may use the following:

Huawei Technologies, Co., Ltd.
Bantian, Longgang District
Shenzhen, 518129, P.R.China
Phone No.: +86-75-28780808
Currency
On 8 November 2004, 1 U.S. dollar was worth 8.2144 RMB Yuan and 1 Euro was worth 10.6256 RMB Yuan. You can check the current exchange rate here.
Safety
Sanya is a charming resort with so many attractions. But just like traveling in most attractions of the world, please always take care of your safety, especially in crowded and lonely places.
---
Return to IEEE 802.16 Page