[802SEC] (RESEND) CURRENT TALLY #2: +++ 802 EC Email Ballot to Approve 802 Liaison Letter to China +++
---
---

+++ RE-SEND OF EMAIL DUE TO CORRUPTION OF ORIGINAL +++

802 EC Members,

Here is the current tally of the 10 day email ballot to make a determination on the motion below:

Motion: "To approve the proposed 802 Liaison Letter to China; per the text below". As per the minutes of the closing EC meeting in San Diego, CA, USA on July 21st, 2006.

Moved: Kerry
Second: Heile

This ballot opens 12:59 PM ET Wednesday September 6th, 2006 and closes when all voting EC members have cast a ballot but no later than 12:59 PM ET Saturday September 16th, 2006 if enough ballots have been cast for a decision to be made (more than 8 approves or disapproves).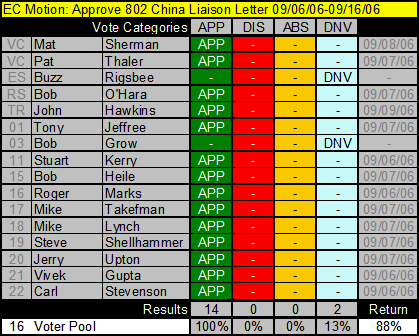 Best Regards,
/ Stuart

_______________________________

Stuart J. Kerry
Chair, IEEE 802.11 WLANs WG

Philips Semiconductors, Inc.
1109 McKay Drive, M/S 48A SJ,
San Jose, CA 95131-1706,
United States of America.

+1 (408) 474-7356 - Phone
+1 (408) 474-5343 - Fax
+1 (408) 348-3171 - Cell
eMail: stuart.kerry@philips.com
Web Site: www.semiconductors.com
_______________________________

---
From: Stuart J. Kerry [mailto:stuart@ok-brit.com]
Sent: Wednesday, September 06, 2006 1:09 PM
To: 'STDS-802-SEC@LISTSERV.IEEE.ORG'
Subject: +++ 802 EC Email Ballot to Approve 802 Liaison Letter to China +++

Dear EC Members,

This is a 10 day email ballot to make a determination on the motion below:

Motion: "To approve the proposed 802 Liaison Letter to China; per the text below". As per the minutes of the closing EC meeting in San Diego, CA, USA on July 21st, 2006.

Moved: Kerry
Second: Heile

This ballot opens 12:59 PM ET Wednesday September 6th, 2006 and closes when all voting EC members have cast a ballot but no later than 12:59 PM ET Saturday September 16th, 2006 if enough ballots have been cast for a decision to be made (more than 8 approves or disapproves).

I thank Roger Marks and Bob Heile for their valuable edits to the text of the Draft Letter.

++++++ TEXT OF DRAFT LETTER ++++++

IEEE 802 LAN/MAN Standards Committee
Roger B. Marks
IEEE 802 China Liaison Official
r.b.marks@ieee.org

To: Zhou Baoxin, CCSA
Lin Ning, CESI

CC: • Wen Ku, MII
• Liu Shuangqiu, SAC
• Paul Nikolich, Chair, IEEE 802

Subject: Update on IEEE 802 Activities

Date: XX September 2006

IEEE 802 would like to update you on some of its recent activities.

The IEEE 802 Plenary took place in San Diego, CA, USA on 16-21 July 2006. The attendance was approximately 1300. For a high-level summary of the results, I refer you to the session reports at:

http://ieee802.org/minutes/jul2006

Please feel free to circulate this information. We welcome your suggestions on how we can increase contacts and communications with Chinese standardization bodies, including at the detailed technical level.

Some highlights are presented in the attachment. I would like to call your particular attention to the activities in the 802.1 and 802.15 Working Groups, since they are directly related to China.

I would also like to inform you that the IEEE has decided to proceed with the development of an IEEE China Office, to be located in the Haidian District of Beijing. This "representative office" will primarily support the activities of the IEEE Computer Society and the IEEE Standards Association.

IEEE 802 renews its invitation for collaboration in the development of networking standards, including wireless LAN standards. IEEE 802 appreciates the contributions that have been made to its progress by Chinese professionals and seeks enhanced participation by Chinese technical experts. It also welcomes information on the technical requirements of the Chinese government and marketplace.

Best regards,

Roger B. Marks
IEEE 802 China Liaison Official


Attachment: Update on IEEE 802 Activities

++++++ END OF TEXT OF DRAFT LETTER ++++++
---