IEEE 802.16 Session #52 Report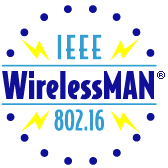 IEEE 802.16's Session #52 was held 12-15 November 2007 in Atlanta, GA, USA. This was an IEEE 802 LMSC Plenary Session and co-located with sessions of the other IEEE 802 Working Groups and Technical Advisory Groups.


Attendance
The attendance list includes 443 individuals.


Task Group m (TGm): Advanced Air Interface
Task Group m (TGm) resolved comments on its draft Evaluation Methodology Document and agreed to review the update in a Call for Comments. It also reviewed initial contributions toward its System Description Document (SDD), primarily regarding System Architecture and Frame Structure. A further Call for Contributions was issued on the SDD content. A closing report and minutes were released.

Relay Task Group
The Relay Task Group completed the resolution of comments received in WG Letter Ballot #28. It agreed to issue a new draft, P802.16j/D2. The Working Group agreed to initiate WG Letter Ballot Recirculation #28a. A closing report and minutes were issued.

Maintenance Task Group
The Working Group's Maintenance Task Group resolved comments received in WG Letter Ballot #26. It agreed to issue a new draft, P802.16Rev2/D2, representing the current status of the ongoing project to revise IEEE Std 802.16, with the content of P802.16i/D6 integrated into the draft. The Working Group agreed to initiate WG Letter Ballot Recirculation #26a. The TG issued a closing report and minutes.

License-Exempt Task Group
In WG Letter Ballot #29, the P802.16h/D3 draft met the minimum approval ratio requirement, but a number of comments were received. The License-Exempt Task Group addressed many of these but did not conclude its work. Therefore, an additional Call for Comments was issued. The TG cooperated in two joint meeting with the 802.19 Coexistence TAG. It intends to develop, voluntarily, a Coexistence Assurance document. The TG issued a closing report and minutes.

Network Management (NetMan) Task Group
The NetMan Task Group met to resolve comments received in Working Group Letter Ballot Recirc #25d regarding P802.16i/D5. The Working Group agreed to merge the contents of the resulting P802.16i/D6 into the draft of the 802.16Rev2 Revision draft under development in the Maintenance TG. Accordingly, the WG agreed to request withdrawal of the P802.16i project. With the 802 EC's agreement, the request was forwarded to the IEEE-SA Standards Board, which is scheduled to act on it on 26 March. With this action, the NetMan TG will no longer be responsible for any projects, after completing IEEE Std 802.16f, IEEE Std 802.16k, and IEEE Std 802.16g. The latter was published by IEEE-SA on 31 December 2007. The Task Group issued a closing report and minutes.

closing report.

Paul Piggin was appointed as Liaison Official to the IEEE 802.19 Coexistence TAG.

Peretz Feder, Liaison Official to the IEEE 802.21 WG, presented a report.

Rath Vannithamby presented a report on a recent Wireless World Research Forum (WWRF) meeting in Chennai, India, where he had presented an address on behalf of the WG.


Minutes and Motions
The Working Group Session #52 minutes are available as IEEE 802.16-07/060.

IEEE 802 Executive Committee Actions
The Working Group's requests at the 802 LMSC Executive Committee meeting of 16 November were approved.

Documents
The Session #52 Document Guide includes references to all session documents. Draft standards are available with a working group password or by purchase from IEEE-SA. Most IEEE 802.16 standards are available for free download via the Get IEEE 802® program. See the 802.16 publication list for details of published standards and drafts.

About IEEE 802.16
The IEEE 802.16 Working Group on Broadband Wireless Access Standards has developed and is enhancing the WirelessMAN® Standard for wireless metropolitan area networks. IEEE 802.16 is a unit of the IEEE 802 LAN/MAN Standards Committee, the premier transnational forum for wired and wireless networking standardization. A list of IEEE 802.16 standards and drafts is available on-line, as is an archive of previous Session Reports. The IEEE 802.16 Interactive Calendar includes sessions and deadlines.

"802.16 News" Mailing List
The "802.16 News" mailing list ("stds-802-16-news") has the sole purpose of distributing major announcements related to the Working Group. Those interested in following the progress of the group but not in the day-to-day details may wish to subscribe. Only the Working Group Chair is eligible to post to the list, and mailings will be rare: once after each bimonthly session and additionally for major news, such as the approval of a new standard. Those subscribing to the stds-802-16 mailing list, for active Working Group participants, need not subscribe to stds-802-16-news since the postings will be redundant.
---
---
With the approval of the IEEE 802.16 Working Group, this report (20 January 2008 edition) was drafted and edited by:

Roger Marks (r.b.marks@ieee.org)
Chair, IEEE 802.16 Working Group on Broadband Wireless Access Standards
---
Return to IEEE 802.16 Session #52 Page