IEEE 802.16 Session #36 Report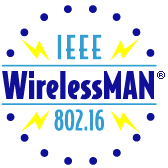 Summary
Session #36 of the IEEE 802.16 Working Group (WG) on Broadband Wireless Access took place on 14-17 March 2005 in Atlanta, GA, USA. This was an IEEE 802 LMSC Plenary Session, co-located with sessions of the other IEEE 802 Working Groups and Technical Advisory Groups. The attendance list includes 340 individuals.
IEEE Std 802.16-2004 Now Available for Free Download
IEEE Std 802.16-2004 is available for free download as of 1 April 2005 through the Get IEEE 802® program, along with other IEEE 802 standards including several from IEEE 802.16. The 893-page document, published on 1 October 2004, is entitled IEEE Standard for Local and Metropolitan Area Networks - Part 16: Air Interface for Fixed Broadband Wireless Access Systems.
Task Group e (Mobile WirelessMAN®) Activities
Task Group e resolved comments in the IEEE-SA Sponsor Ballot recirculation of draft P802.16e/D6. A new draft, P802.16e/D7, was prepared for recirculation, with comments to be considered at Session #37. Task Group e issued a closing report and minutes.

Update: IEEE-SA Sponsor Ballot recirculation (see cover letter IEEE 802.16-05/020) was initiated on 12 April, with a deadline of 28 April.
Network Management Task Group Activities
The IEEE 802.16 Network Management (NetMan) Task Group addressed responses to a Call for Comments regarding the P802.16g Baseline Document. Based on comment resolution, a new P802.16g Baseline Document was released for a further Call for Comments. Separately, following the successful completion of Working Group Recirculation Ballot #16b, the draft P802.16f/D3 (the Management Information Base [MIB] for fixed operation), was forwarded by IEEE 802 for IEEE-SA Sponsor Ballot, which runs from 28 March to 27 April 2005. The NetMan Task Group, which also held several meetings with the IEEE 802.21 Handover TAG, issued a closing report and minutes.
Maintenance Task Group Activities
The Working Group's Maintenance Task Group resolved comments received during Working Group Letter Ballot #17, under which the P802.16-2004/Cor1/D1 draft was under review. Based on the comment resolutions, the second draft (P802.16-2004/Cor1/D2) of this Corrigendum to IEEE Std 802.16-2004 was developed and submitted for Recirculation Ballot #17a, closing 22 April. The Maintenance Task Group updated its development schedule and issued a closing report and minutes.

Conformance Task Group Activities
The Conformance Task Group, addressing the P802.16/Conformance04 project on PICS Proforma for frequencies below 11 GHz, did not meet. However, the Working Group, based on previous Task Group activities, decided to adopt a first draft P802.16/Conformance04/D1 and initiate its review in Working Group Recirculation Ballot #18. That ballot closes on 2 May 2005.
Licensed-Exempt Task Group
The Working Group's Licensed-Exempt Task Group held its second meeting to develop the P802.16h draft. After reviewing several contributions, the group issued a working document and a Call for Comments. A closing report and minutes were also released.
Liaison Activities

Documents
The Session #36 document list includes references to several hundred session documents. Draft standards are available with a working group password or by purchase from IEEE-SA.
Minutes
The Working Group minutes are available as IEEE 802.16-05/018.
Working Group Membership
The Working Group Membership grew from 220 to 287. At least 85 Potential Members will be eligible for membership by attending Session #38.
About IEEE 802.16
The IEEE 802.16 Working Group on Broadband Wireless Access Standards has developed and is enhancing the WirelessMANTM Standard for wireless metropolitan area networks. IEEE 802.16 is a unit of the IEEE 802 LAN/MAN Standards Committee, the premier transnational forum for wired and wireless networking standardization. A list of IEEE 802.16 standards and drafts is available on-line, as is a project milestone summary and an archive of previous Session Reports.
"802.16 News" Mailing List
The "802.16 News" mailing list ("stds-802-16-news") has the sole purpose of distributing major announcements related to the Working Group. Those interested in following the progress of the group but not in the day-to-day details may wish to subscribe. Only the Working Group Chair is eligible to post to the list, and mailings will be rare: once after each bimonthly session and additionally for major news, such as the approval of a new standard. Those subscribing to the stds-802-16 mailing list, for active Working Group participants, need not subscribe to stds-802-16-news since the postings will be redundant.
---
With the approval of the IEEE 802.16 Working Group, this report was drafted and edited (19 April 2005 release) by:

Roger Marks (r.b.marks@ieee.org)
Chair, IEEE 802.16 Working Group on Broadband Wireless Access Standards
tel: +1-303-497-7837
---
Return to IEEE 802.16 Session #36 Page